5 Sure-Fire Ideas To Improve Your Commercial Kitchen Efficiency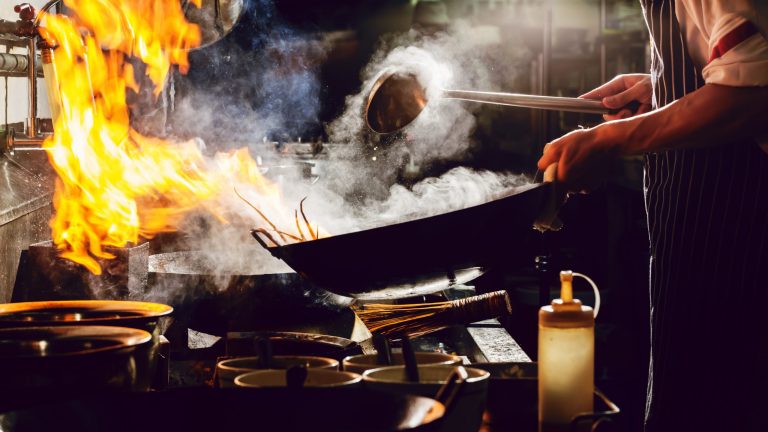 It feels like we're always talking about commercial kitchen efficiency – with clients, with colleagues, with other industry professionals. But, what does efficiency really mean? Why should you care about it? How does efficiency impact on your kitchen, your business and your bottom line?
Ultimately, it comes down to return on investment. Commercial kitchens absorb a large chunk of capital and ongoing operational costs so it makes good business sense to thoroughly plan for the greatest return on investment through efficiency and other foodservice design considerations.
Every food business owner knows the back of house (BOH) has its own unique rhythm that facilitates the menu and the needs of the business. Inefficient kitchens that inhibit this workflow find their bottom line gradually eroded by creeping overheads and labour costs. 
Efficiency is never an accident. Don't leave it to chance, ensure that every cent spent on your back of house is wisely invested. These five ideas will give you a good starting point for getting your commercial kitchen efficiency on track.
1. Start with your menu.
Take a look at the food you're serving up. Is it too diverse? Is there enough synergy between menu items? Different meals require different workflows and different equipment to achieve the desired results. When your menu is too diverse, you can end up with significant inefficiencies due to crossovers in the workflow, equipment that is overworked or not used to its full potential, and, generally speaking, a pretty chaotic BOH.
If you're in the process of reworking your menu, perhaps you'll find there's equipment you don't really need or that your workflow just doesn't cut it. Take stock of this and begin to plan for the future.
2. Analyse the workflow in your kitchen.
It's common for the bulk of inefficiencies to occur due to poor workflow, with many commercial kitchen operators not realising or recognising which areas might be letting the team down. Are there crossovers? Are people backtracking? Are there too many steps between cold or dry storage and the prep areas?
Poor workflow can very quickly add up to excessive BOH labour costs, as well as increased energy costs and maintenance issues. Some quick fixes can include moving or purchasing simple countertop equipment to give greater flexibility or streamline your workflow, or looking at adjusting the layout of your prep areas or how your kitchen is staffed. 
Be sure to keep food safety in mind when making any changes to your commercial kitchen layout, for example, keeping raw and cooked foods separate. Your layout and workflow should be coherent, yet separate. Structured, yet flexible.
3. How are you managing deliveries and storage?
It all starts with good inventory management. Set up policies and procedures and be aware of inventory flow in and out for different types of supplies, including the processing of delivery slips and other documentation. Having a streamlined process for deliveries and storage will keep your bookkeeping in order and identify issues with orders or inventory early-on.
To best facilitate efficient management of deliveries and storage, the layout of your commercial kitchen should be well thought-out and designed to reduce steps between stations, including storage areas and prep areas. All without compromising food safety, of course! 
An important part of inventory management for commercial kitchens is food safety. Get this wrong and you could very quickly eat into all the gains you made through your efficiency efforts. Some key considerations for storage and food safety are:
Check the temperature of cold or frozen food as it is delivered. This ensures the products are within the acceptable temperature range before being placed in your cold storage areas. 

Regularly clean and check storage areas to ensure they are well-maintained and pest-free. 

Train staff on how to report any issues with stored food. Taking the time to train them now will save you time down the track and minimise the risk of miscommunication, delays or poor judgement.
4. Efficiency isn't just for workflows
It's also for equipment! For equipment to operate efficiently, there should be correct clearances between each appliance and consideration should be given to capacity, the types of equipment located in close proximity to each other, frequency of use, the workflow's impact on appliance use (e.g. fridge doors opening and closing), and more.
Equipment efficiency can also come in the form of multi-purpose appliances and advanced technology. For example, Variocooking centres are ranges, griddles, fryers and bratt pans all rolled into one appliance. Energy and water-efficient equipment specification is also a wise investment, wherever it is practicable and within budget. Rapid technological and eco-friendly advancements are finding their way into the foodservice industry, so ask your foodservice designer or equipment supplier about how these high-tech solutions can fit into your kitchen efficiency plans.
5. Invest in foodservice design
While it's always a good idea to take steps towards improving commercial kitchen efficiency, a professional foodservice designer is able to approach efficiency from a holistic and integrated perspective. Well-known and trusted foodservice consultants possess unrivalled knowledge around commercial kitchen efficiency, equipment, food safety and building compliance, and many other important features for your foodservice establishment.
Foodservice consultants are also able to keep up with the latest developments in the industry, monitoring food trends, foodservice design requirements and the latest developments in commercial kitchen equipment. This means they are able to help you balance your budget with the latest technology to specify the most efficient design and equipment solution, ensuring dollars end up back in your pocket over time. 
Our foodservice consultancy team prides itself on offering unbiased and industry-respected advice and solutions. No two kitchens are the same so we proudly give each and every kitchen the attention it deserves. 
If you've got questions about your commercial kitchen efficiency, request a call back from our team. We'll help you connect each piece of the efficiency puzzle so you can move towards peak performance.