With the aged care industry under intense public scrutiny, it's important to consider every angle in the discussion, including the best way forward for the sector.
Make Every Meal Count in Modern Aged Care
With the aged care industry under intense public scrutiny, it's important to consider every angle in the discussion, including the best way forward for the sector.
The statistics are alarming – a 2009 study found that 50% of Australia's aged care residents are malnourished. The effects of poorly designed aged care catering pathways have wide implications, impacting on residents' ability to create positive memories and relationships, and engage in social contexts while savouring smells, tastes, textures and diversity of flavours.
Modern aged care facilities are swinging their focus towards creating a better dining experience for Australia's rapidly aging population. The industry is going through a swift evolution, as increasing numbers of aged care facilities are modernising their commercial kitchens and dining areas. Aged care facilities that don't get on board now will be a step behind, with demand rapidly increasing in coming years and the prospect of regulations and policy changes looming overhead.
Tackling malnutrition in aged care
Elderly people are at an increased risk of malnutrition, with the risk higher in aged care. The reasons for malnutrition are wide and varied, but commonly including:
Age-related illness and decreased sensory input/output
Disease and other illness
Restricted choice in food types and flavours
Sector budget cuts and low funding
Low cost per meal
Limited access to nutritional and dietetic support
There has been growing public outrage at the low daily meal cost restrictions in Australian aged care facilities. Modern facilities are increasing the quality, nutrition and cost allocation per meal by implementing catering pathways with innovative menu planning at the core. When menu planning is done systematically and inclusively, portion control can be better monitored, which in turn reduces waste. When portions and waste are handled efficiently and effectively, better purchasing decisions can be made. This subsequently allows for a better allocation of costs and better meals.
One of the forerunners of this solution is Carinity, with their new aged care facility in Brookfield, Queensland. Carinity and Food Strategy are working together to test and drive this method, leading the pack in modern aged care catering.
Commercial Equipment in modern aged care kitchens
Modern aged care kitchens must consider production, presentation and delivery to meet the needs and expectations of residents and their families. They must also meet food safety standards and future capacity must be well-planned.
There are two main systems of food production for aged care, 'cook fresh' and 'cook-chill'. Both have their merits, however, there is little nutritional difference between the two systems. Commercial kitchens can be off-site or on-site but are now being located away from the dining area, to eliminate sterile dining environments. Advances in retherm technology means that no matter where the food is cooked, it can be transported and reheated in a way that meets food safety standards while maintaining nutritional value and aesthetic appeal.
Because food is being transported from commercial kitchens to the various zones in aged care facilities, serveries are being utilised in dining areas. These serveries are well-equipped with commercial equipment that is specified to create an ambience associated with a home. Leading the way in this space are induction cooktops concealed under stone benchtops. The stone benchtop serves its usual purpose when it's not being used as a cooktop. The overall effect is that of a modern kitchen, with a seamless workstation and smoother food preparation and meal delivery process.
Aged care dining that feels like home
The future of aged care dining design is already starting to take shape, with aged care facilities featuring serveries that look more like home and less like a commercial kitchen. Residents are able to enjoy warm, freshly-cooked food, without feeling as though they are eating in a cafeteria.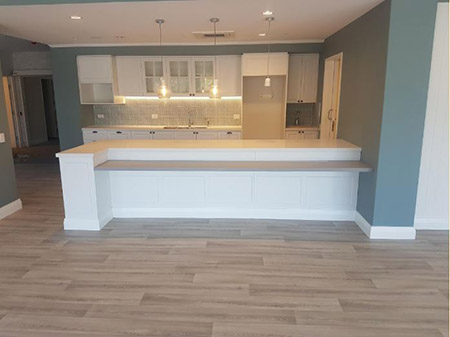 These modern aged care serveries emulate home like never before in aged care. Cooking sessions are becoming a popular resident activity, stimulating residents' senses and encouraging socialisation. Some aged care facilities even put up self-serve buffet stations in their dining areas, allowing residents to fix their own breakfast as they would in their own homes. Dining is a social experience and all residents, especially those with dementia, will benefit from an environment that makes them feel more at home.
The future of Australian aged care
These advancements in modern aged care catering are geared towards addressing malnutrition, lifestyle, relationship and quality issues. Tackling malnutrition begins in the kitchen and extends to the dining experience and the wider support networks available to aged care residents.
As the Australian population ages and the public demand change, we will see more facilities using modern food preparation and serving methods, with the aim of residents enjoying their dining experiences, and ultimately, never missing a meal.
We invite you to join the conversation – turn your sights to the future and learn more about the catering pathway in modern aged care.