Since 2017 Crunchy's has been rocking their iconic double decker bus at all kinds of events in and around Brisbane. Now they're stepping up to the next level and becoming the event with a new cafe located in Jimboomba – south west of Brisbane – Crunchy's Cafe.
Food Strategy was set the task of designing a modern and functional desert cafe while staying true to the aesthetic and feel of the Crunchy's bus. The final product is something pretty sweet In their new Jimboomba-based café they offer all-day desserts such as Dutch Poffertjes, Crêpes, Ice Cream Sundaes, and their #1 specialty: Belgian Waffles.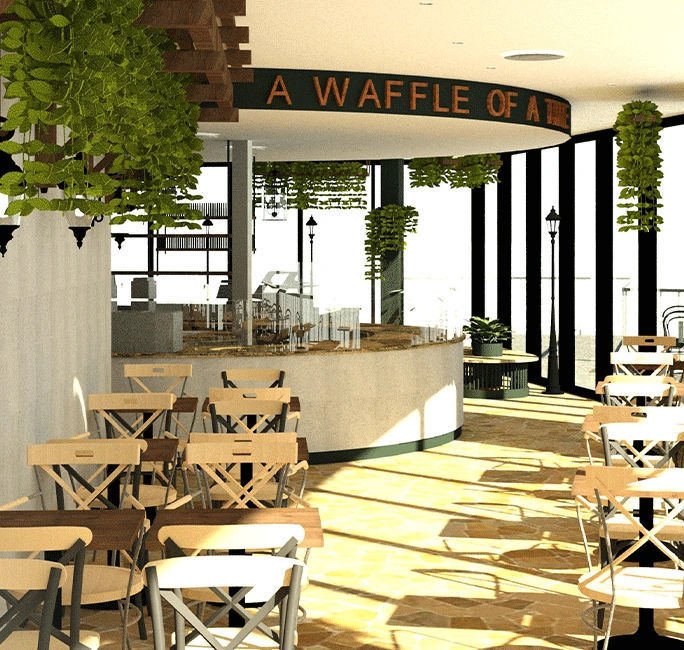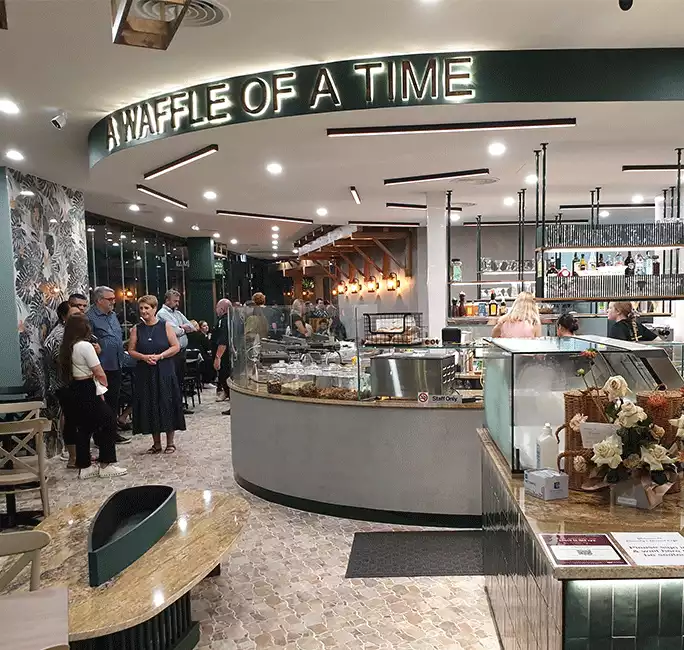 INTERIOR DESIGN
Crunchy's features a curved bench as the centrepiece of the store, keeping the four waffle irons out on display. The hustle and bustle of the theatre kitchen takes the feeling of the original bus and adds it to the cafe, a subtle nod to its roots.
The dining area runs down the side of the kitchen, providing plenty of separation from the entrance and POS. The open kitchen design keeps the 177m² site spacious and comfortable while maintaining the presentation of the kitchen and cookline.
A POS on either side of the ice cream display keeps customers flowing through at a high rate. The ice cream display at the front counter encourages impulse purchasing while staying close to the blender and dessert preparation section.
THEATRE KITCHEN DESIGN

The theatre kitchen is the heart of the Crunchy's dessert cafe. It brings the original Crunchy's experience right into the restaurant while innovating the brand. The open view across the cafe opens up the entire space, creating a roomy feel in a tight space.
The compact design of the kitchen itself keeps foot-traffic to a minimum. While the food production zone is kept closer to the dining area, the coffee machine is located at the front entrance to allow easy service to take-away customers.
The kitchen comes equipped with four waffle irons and two crepe makers to maximise production. The two chocolate tempering bain maries ensure chocolate is constantly maintained at optimum temperature throughout the day. Four induction cooktops allow for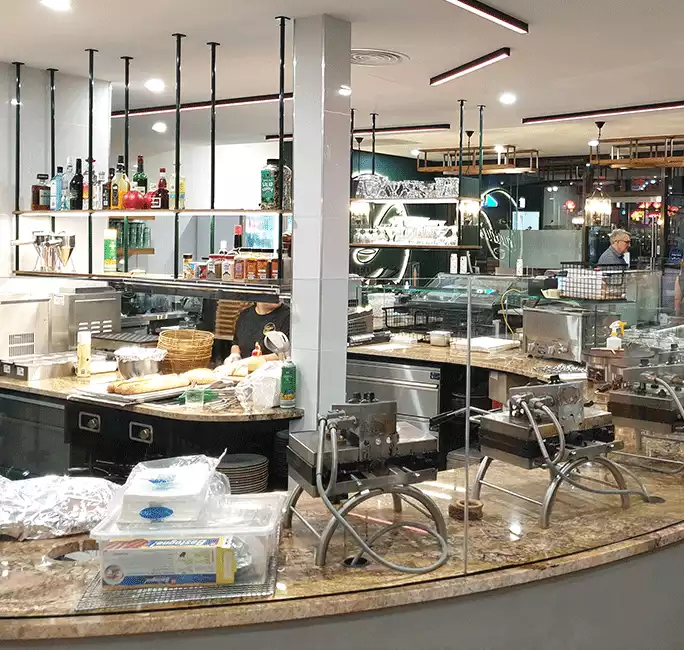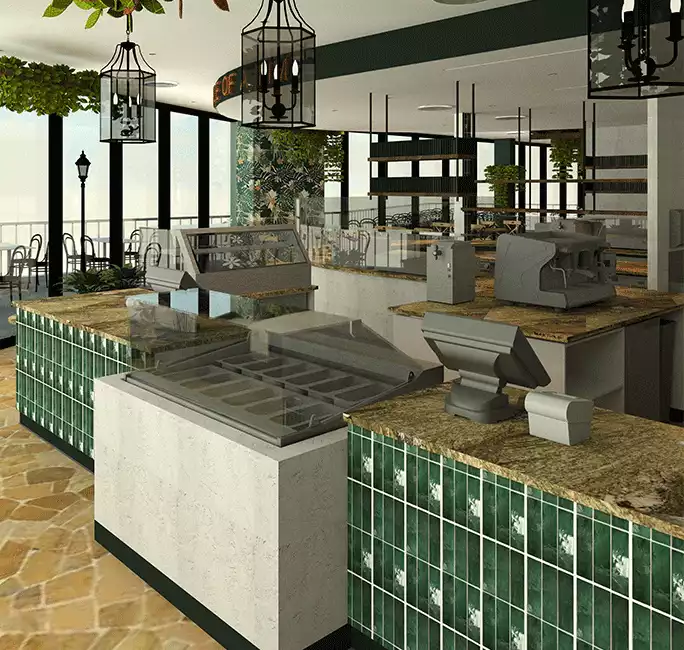 COMMERCIAL KITCHEN EQUIPMENT SPECIFICATION
True 2 Door Upright Freezer
True 2 Door Upright Refrigerator
Mantova Pastry Trolley
Turbofan Full Size Digital Electric Convection Oven
Turbofan Full Size Manual / Electric Prover / Holding Cabinet
True 2 Door Undercounter Freezer
True 3 Door Undercounter Refrigerator
Robot Coupe Planetary Mixer
Washtech Passthrough Warewasher
Williams Thermowell Countertop Preparation Unit
Adande 2 Drawer Refrigeration Unit
HVD Waffle Irons
Neumarker Poffertje Grill
Neumarker Crepe Maker
Mazzer Coffee Grinder
Rancilio 2 Group Coffee Machine
Bromic UnderCounter Refrigerator
Ciam Ice Cream Display
Sanomat Euro and Euro Piccolo Cream Machines
Vitamix On-Counter Blender
Adande 1 Drawer Matchbox Refrigeration Unit
Anvil Axis Adjustable Salamander
Washtech Undercounter Dishwasher
Scotsman Modular Half Dice Ice Machine w/ Storage Bin
Apuro Hot Chocolate Machine 5 Litre
Rheninghaus Meat Slicer
Anvil Alto Drop in Induction Cooker
Anvil Axis Double Panini Press
Carlisle Waste Bins
Skope Vertical Refrigerator
Roband 2 Module Tempering Bain Maries
Chilled Drop-In Food Display
Anvil Alto Induction Cooktop
Billi Filtered Water Unit