The hype over TV cooking shows such as My Kitchen Rules and Masterchef ignite home cooks to believe they can open a bustling restaurant if they score higher than an 8 with the judges. 
My Kitchen Rules Is A Business Illusion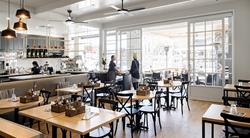 The hype over TV cooking shows such as My Kitchen Rules and Masterchef ignite home cooks to believe they can open a bustling restaurant if they score higher than an 8 with the judges. The sparkle in their eyes is a real vision of their successful future.
The truth is most of the contestants have zero business or food industry knowledge. This doesn't mean they can't open their own restaurant. It just means there's a lot to learn.
A restaurant is a business – a hardcore, unforgiving business. Serious cash can be made by good operators. For anyone else, it can be a volatile ride if their house is on the line. The financial investment in the food business is massive.
Top 8 Tips for Opening Your Restaurant
Choose a location wisely. It does matter what the demographics are. Understand your potential customers and where they hang out. Look for affordable rent that also enables foot traffic and easy access for diners. If you want to sell greasy burgers and fries with funky hipster staff, then you should probably avoid a small shopping centre next to an aged care facility. However, if that facility is massive with hundreds of young doctors and nurses – your burgers might be what they need after a night shift. Walk in your customer's shoes.

Build a relationship with your landlord. Think outside the box to negotiate a better deal. Leasing rates are a numbers game. It's common for landlords to contribute to your set up costs. This will usually alter the monthly rental cost but could be a great way to preserve cash flow and get your landlord to be committed to your business success. Ask for 'rent-free' periods before you open. Six weeks of free rent could be all you need to swing your doors open before you make your first payment. Some landlords will offer more to secure a good tenant. Don't sign the lease until a foodservice expert has appraised the site for you. It's good to know that the exhaust canopy can be easily installed without unexpected costs.

Get it right on paper first. Get a foodservice expert's detailed plan for the front and back of a house. For the best designs, find someone who knows foodservice as well as construction. It all has to come together in the planning. You will get more accurate shopfitter and supplier quotes if the designer's plan is chock-full of all the information. A basic or ineffective design may cause a $30,000 variation that will stop you in your tracks.

Research shopfitters. Look for experience with restaurant and kitchen builds. Commercial kitchens are specialised. They must comply with the relevant codes. Some shopfitters are great at retail fit-outs and some are experts at retail food and commercial kitchens. So ask around.

Get all your council applications approved correctly. Otherwise, you may not be allowed to open and insurances may be voided. If you risk a non-compliant business, the council may halt your trading or insurance companies won't pay you in the event of a claim. It's a low-cost expense that is worth every cent to help you sleep at night. Think ahead – If you sell your food business, you will need to show that all your compliance certificates are in order.

Get specific financial and business guidance. Explore funding options to assist cash flow. Find a mentor who knows the food industry. There are banks, finance brokers, specialised hospitality funding options and your Uncle Bob. Each has a different benefit. Decide what is most important to you. Think about interest rates, monthly repayments, cash flow, asset ownership, rental or tax deductions. Talk to a trusted accountant, experienced bookkeeper or a foodservice funding professional.

Find a mentor who knows the food industry. A guiding mentor can be invaluable support for your sanity and decision making. Find someone with food industry experience and entrepreneurial business smarts and you're onto a winning formula. The food industry is quirky and volatile – find a mentor who 'gets it'.  It's been done before, so don't be afraid to explore other people's successes and failures. Most are willing to share their knowledge.

Plan an active long-term marketing strategy. Tell the world you'll be open for business leading up to your first day to build hype and generate quick cash flow. Then work that plan relentlessly into the future. Think of every dollar spent on marketing as an investment in your brand and future cash flow. Social media is a #FoodPorn delight that will work in your favour. Be prepared to put in ongoing commitment to keep your brand alive and in touch with your followers. Keep abreast of changes in digital mapping technology and online review boards.These are just a few of the key points. The entire process is lengthy and heavily regulated, so be sure to engage experienced professionals to get your kitchen open for business as quickly as possible.
Follow the above tips to fast track opening your doors.
It doesn't matter how passionate you are about your food. If you don't have an effective business strategy to get your kitchen open for business, drive profitability and pull repeat sales, then you don't have a food business.
I'd like to see a TV series called Restaurants Open For Business. Now that would be helpful!
For over 20 years, Food Strategy has been helping restaurant owners start their business.
Contact our foodservice experts to design and equip your restaurant kitchen.