Getting started with a home-based commercial kitchen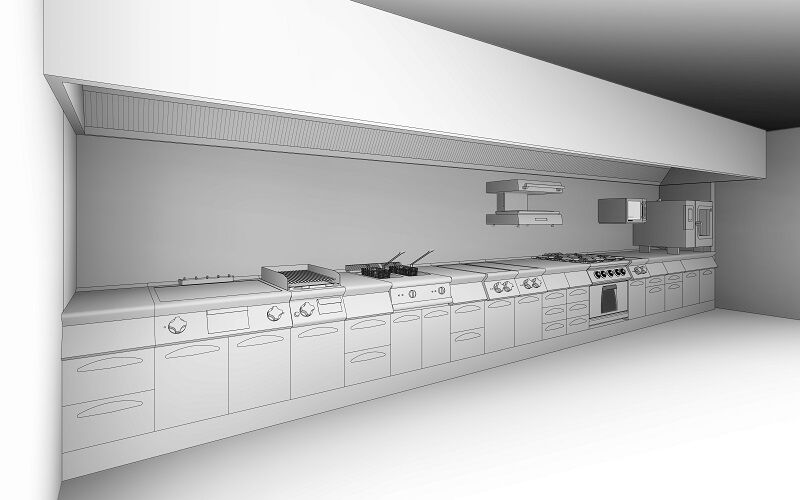 Generally speaking, there are two reasons you might choose to build a commercial kitchen in your home. Firstly, if you are operating a food business which cooks, bakes or handles food to sell to others. Alternatively, if you regularly entertain large numbers of people or simply prefer the aesthetics and functionality of a commercial kitchen.
Home-based food businesses
If you're cooking, baking or handling food to sell to others, then your home-based commercial kitchen must meet the same food safety requirements as other food businesses. This includes implementing a food-safe design and fitout, obtaining a local council food licence, food safety inspections, meeting labelling requirements and having a certified food safety supervisor.
Typically, your commercial food preparation and cooking will need to be separate from household food preparation. To meet compliance needs, the design of your home-based commercial kitchen will need to include, but is not limited to:
A layout that prevents cross-contamination of food

Appropriate (and usually separate) hand washing facilities

Efficient fridges and freezers that are able to maintain temperature at all times, particularly when holding bulk amounts of food

Safe food storage and packaging, such as sealed containers on shelves located off the ground

Commercial-grade impervious surfaces (floors, walls and benches) that can be easily cleaned and sanitised. Stainless steel is one of the most hygienic options for benches and splashbacks

Access to drinking-quality water and adequate lighting for workplace health and safety

Good ventilation to help remove steam, oil and vapours from the air. This can be natural or mechanical, depending on the type of food preparation you will carry out

A waste storage and removal system to ensure that waste is unable to contaminate food

Commercial equipment and appliances, although some small food businesses are able to operate using domestic appliances. It's important to consider the likely wear and tear before making a decision on equipment, as commercial equipment generally handles greater capacity and frequency than its domestic counterparts.

A way to secure the kitchen from children, pets and visitors
Top Tips:
Before you embark on your journey to set up a home-based commercial kitchen, be sure to check your local council regulations for eligibility requirements. Some councils, such as Brisbane City Council, will only consider home-based food licence applications if the nature of the food is low-risk.

Be realistic when selecting equipment and appliances. Weigh up your skills and menu needs, equipment usability and cost to get the best bang for your buck. A commercial kitchen consultant should be able to help you with this.

Consider energy efficiency to keep your electricity bill as low as possible. Equipment choice isn't the only way to save on energy usage. Inefficient workflows can result in excessive opening of fridge and freezer drawers and other energy-draining habits.

Maximise your time in the kitchen by using a smart layout and good quality tools of the trade. For example, place prep areas near storage areas. Afterall, once your work is finished for the day, the rest of your home awaits.

Just because you're in your home doesn't mean you should let workplace health and safety slide. Implement a safe design and safe practices.
Non-food business home-based commercial kitchen
If you entertain groups often or love the look, feel, durability and functionality of a commercial kitchen, perhaps you've considered replacing your domestic kitchen with a sleek commercial version. Just like this linear commercial kitchen we recently designed for a beautiful home on Queensland's Sunshine Coast.


The question is, do you need commercial kitchen designs for a commercial-style kitchen in your home? This depends on your future plans for the kitchen or the property, your budget, the type of commercial equipment you're considering and how much commercial kitchen detail you're wanting to replicate.
Unlike kitchens that are designed for a commercial purpose, there can be greater flexibility in residential kitchens that are created for non-business use. Size considerations and aesthetics can be adjusted to suit the tastes and style of the home, as there is no need to comply with food safety regulations.
Top Tip:
Consider future use of the kitchen. Will future buyers of your home be on the lookout for a kitchen that can be used for commercial purposes? If so, it would be best to consider some of the regulations and tips listed above for home-based food businesses. In this instance, consulting a foodservice designer is a sure-fire way to add significant value to your home commercial kitchen investment.
When it comes time to decide on finishes for your commercial kitchen, stainless steel is a no-brainer. Commercial kitchens typically use stainless steel as it is easily cleaned and sanitised. Some people go the whole way and opt for stainless steel benches to truly mimic a commercial kitchen environment, while others opt for alternatives, such as stone.
In addition to finishes, you'll need to consider what equipment will suit your cooking style or entertaining needs. If you're using your cooktop frequently or cooking at scale (in volume), you'll need adequate ventilation to protect your roof and cabinets. Range hoods can also add visual appeal if aesthetics are one of your goals. Similarly, if you have a butler's pantry or storage area, coldroom shelving solutions are perfect for maximising the storage capacity and emanating those commercial kitchen vibes. Foodservice consultants can give solid advice on what equipment best balances your needs, expectations and budget.
Keen to chat about commercial kitchen options in your home? Request a call back from our team at a time that suits you best.